Saturation Masks
Saturation masking is a technique that evolved after working with luminosity masks. Seeing how well the luminosity masks managed tonal values, I wanted something similarly powerful to manage saturation. Adjusting saturation via Photoshop's Hue/Saturation command often results in changes that either go too far or not far enough. Something to fine-tune saturation adjustment would be helpful, and a saturation mask was the logical way to proceed.
A tutorial about how to create and use these saturation masks is now available as a small eBook. It completely describes how to create and use saturation masks to expertly control saturation in your prints. Included with the eBook is a set of Photoshop actions that performs all the steps described in the tutorial to create saturation masks.
At this time, the eBook and the Photoshop actions are available on a donation basis through the Special Offer .
The eBook (a PDF document) and the actions to create the masks will be emailed to you in the Special Offer ZIP folder. You will need Adobe Acrobat Reader to read the eBook. The actions work on both Windows and Mac computers.
Below are links to several chapters from the eBook as either Acrobat files or HTML. The chapters will open in new windows when you click the links.
Several positive comments have been posted or received from photographers that have read the eBook and used the Photoshop actions for the saturation Masks.
"Just wanted to drop you a short note telling you how happy I am with the Sat. Masks.  They are truly incredible.  I just finished processing an image, and without the masks I would have probably trashed it." Bill Chambers—via personal correspondence. Bill has also created a page describing how he used the saturation masks on this particular image. It's located here.
"My thanks again for the actions for the Saturation masks. They work like a dream. Perfect follow up to the luminosity masks. Your explanations are very clear... it's as though you are anticipating my questions. What a great tool to fine-tune the saturation... subtle local improvements that can have such a great effect overall." John Christopher—via personal correspondence.
"While I've just read his ebook on the subject and tested saturation and vibrancy masks with but a few images, the creative potential seems to me to be huge. I particularly like Tony's approach vis-à-vis achieving balanced saturation: rescuing over-saturated elements wile adding vibrancy to under-saturated elements." Patricia A. Minicucci
"Tony's latest tutorial is for what he calls Saturation Masks. These are very cool ways of controlling and enhancing saturation in you images. Like the Luminosity masks, these give you a great deal of control over your images. By using Tony's masks I was able to easily tweak an image until it had that "Velvia pop" again." Rod Barbee newsletter
"I've had the opportunity to really put the saturation masks through the paces recently. I got back from New Mexico about 10 days and have thus far worked up roughly half of the images I took--mostly from White Sands and Bisti. I'm using the masks in at least 3/4 of the images I've worked up...possibly an even higher percentage than that. I'm guessing about half the time I'm using both the intensify and rescue masks in the same image. I've found the saturation masks to be a huge, huge help with the Bisti images in particular. This is not to say that they haven't been a big help elsewhere, but the impact seems particularly substantial with regard to the Bisti stuff. In any case, suffice to say that I now find it difficult to imagine doing any post-processing without luminosity and saturation masks. Folks who aren't using them have no idea what they're missing." Kerry Leibowitz—via personal correspondence.
Thank you for your interest in this topic and for your support. Please feel free to with your comments, suggestions, and questions.
EBook cover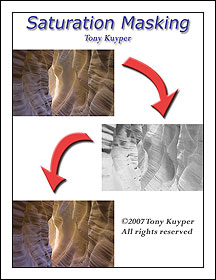 All content associated with this tutorial is copyrighted as it represents "original work of authorship." This includes, but is not limited to the words, the web pages, the PDF files, the HTML code, the pictures, the graphics and the Photoshop actions. Your donation entitles you to use this content for your personal work and enjoyment, but redistribution and/or sale of the material is prohibited. If a friend or colleague wants a copy, please ask them to come to this site and contact me to obtain it. Thank you.