TK9-Plugin für Photoshop
Fünfundzwanzig Prozent (25 %) aller Verkäufe von dieser Website (nach Zahlung von Partner- und PayPal-Gebühren) werden für wohltätige Zwecke gespendet. Wir alle können etwas beitragen, sei es Zeit oder Geld, und ich bitte dich, deineGemeinde durch wohltätige Spenden auf jede mögliche Weise zu unterstützen. Organisationen, die ich unterstütze: Community Food Bank of Southern Arizona, American Red Cross, Primavera Foundation, and Tucson Wildlife Center.
Seit der Veröffentlichung des ursprünglichen Tutorials über Luminanzmasken im Jahr 2006 ist mir bewusst, welche Auswirkungen sie auf die Fotografie eines Einzelnen haben können. Viele Menschen haben mir geschrieben, um mir zu sagen, wie nützlich diese Methoden für sie waren (siehe Benutzerkommentare unten), und um Hilfe beim Erlernen dieser Techniken und ihrer Einbindung in ihren Workflow zu bitten. Luminanzmasken machen Fotografen kreativer und im Laufe der Jahre habe ich Aktionen, Tutorials und Luminanzmasken-Panels angeboten, um ihre Verwendung zu erleichtern. Das neueste Angebot, das TK9-Plugin für Photoshop, ist unten aufgeführt. Es funktioniert auf Mac- und Windows-Computern gleichermaßen und wird über einen Download-Link bereitgestellt, der an die beim Kauf angegebene E-Mail-Adresse gesendet wird. André Distel hat das Plugin ins Deutsche übersetzt.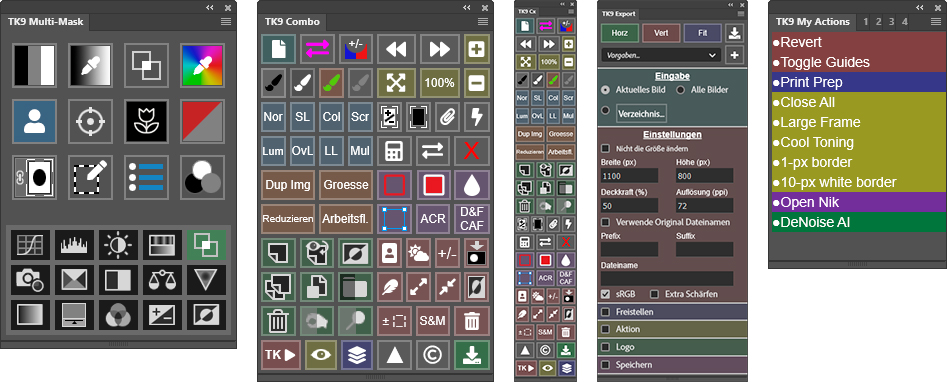 $33
Das TK9-Plugin für Photoshop ist das ultimative Werkzeug zur Verbesserung der Kreativität und Kontrolle in Photoshop. Erfahre mehr (auf Englisch).
Enthält neun Module - Multi-Mask, Combo, Cx, Export und fünf My Actions-Module.
Viel mehr als nur ein Luminanzmasken-Panel. Das Modul Multimaske erstellt Masken auf der Grundlage vieler verschiedener pixelgestützter Werte: Luminanz, Farbkanäle, Farbton, Farbe, Sättigung, Dynamik und Blend If-Einstellungen. Ebenfalls enthalten sind Kantenmasken und Fokusmasken.
Alle Masken lassen sich stufenlos modifizieren und mit dem Maskenrechner durch Addition, Subtraktion oder Überschneidung kombinieren.
Mehrere Maskenausgabeoptionen, darunter Einstellungsebenen, Ebenenmasken, Auswahlen, Dodge & Burn, Maskenmalerei und Pixelebenen.
Ein spezieller 16-Bit-Workflow sorgt für optimale Masken von der Erstellung bis zum Einsatz.
Die Combo- und Cx-Module führen viele gängige Funktionen in Photoshop mit einem einzigen Klick aus und enthalten darüber hinaus spezielle Aktionen für die kreative Entwicklung von Bildern.
Der neue Ebenenmasken-Rechner ermöglicht Maskenberechnungen direkt auf Ebenenmasken.
Das neue Exportmodul schärft Bilder perfekt für die Darstellung im Web und bietet zusätzliche Optionen zum Zuschneiden, Hinzufügen eines persönlichen Wasserzeichens, Ausführen von Aktionen und Speichern. Das Web-Sharpening funktioniert für ein einzelnes Bild oder einen ganzen Ordner mit Bildern.
Mit den Modulen "Meine Aktionen" könnenbenutzerdefinierte Aktionslisten erstellt werden, die mit persönlichen Aktionen im Bedienfeld "Photoshop-Aktionen" verknüpft sind.
Die aktualisierte Farbrad-basierte Farbabstufung macht die Farbabstufung einfach und visuell intuitiv. Benutzerdefinierte Farbabstufungen können nun gespeichert und verglichen werden. HINWEIS: Für die Farbabstufung ist Photoshop 2023 Version 24.6.0 oder höher erforderlich.
Die Funktion "Überblendung bearbeiten" ermöglicht die einfache Bearbeitung der Überblendungseinstellungen einer Ebene, um zu steuern, wie die Ebene zum zusammengesetzten Bild beiträgt.
Der Ebenenmaskenmodus bietet sofortige Rückmeldung beim Hinzufügen und Anpassen verschiedener Masken auf der aktiven Ebene.
Auswahl bearbeiten ermöglicht die visuelle Bearbeitung von aktiven Auswahlen als Masken.
Kompakte, anpassbare, intelligenten Menüs, die geschlossen werden, wenn sie nicht benötigt werden.
Inklusive PDF-Anleitung (auf Englisch).
Einfache Installation über Adobes Creative Cloud-Applikation. Dieselben Installationsprogramme funktionieren sowohl auf Windows als auch auf Mac (einschließlich Apple Silizium-Computern, wie Mac M1/M2). Hinweis: TK9 funktioniert NICHT in einer Photoshop-Version, die älter ist als Photoshop 2022 Version 23.3.0. Hinweis: TK9 funktioniert NICHT in einer Photoshop-Version, die älter ist als Photoshop 2022 Version 23.3.0. Außerdem ist die Creative Cloud Desktop-Applikation erforderlich, um das TK9-Plugin zu installieren. Die Installation ist in illegal verbreiteten Versionen von Photoshop nicht möglich.
Und vieles, VIEL mehr!