TK Gen Fill Plugin for Photoshop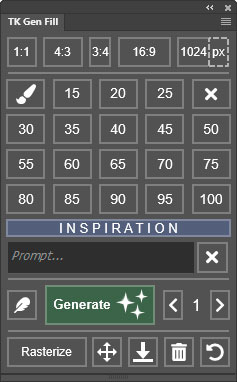 The TK Gen Fill plugin provides an easy way to interact with Photoshop's new generative fill capability. This plugin is currently FREE!
Features include:
Create new documents that match the size and aspect ratio of images generated using Adobe Firefly.
Resize your own documents to 1024-px on the long side for optimal generative fill performance.
Select different levels selection to turn photographs into paintings or drawings.
Use custom prompts to generate specific subjects or no prompt at all to infill selected areas.
Cycle through generated variations with convenient "Previous" and "Next" buttons.
Easily rasterize the generative fill smart object with the selected variation in order to make a smaller document size.
Conveniently move infilled subjects to different parts of the image.
Delete generative fill smart object layers that aren't working.
One-click reset to start over with different generative fill settings.
The TK Gen Fill plugin easily installs into Photoshop with a custom installer. Photoshop 2024 or Photoshop Beta 25.0 or later is required to use it. The image below shows the plugin and labels the sections and buttons.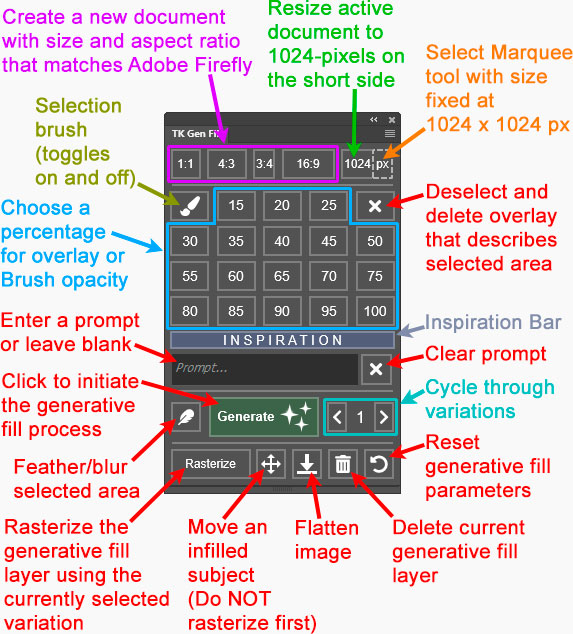 Use the plugin's fly-out menu in the upper right corner to access additional options.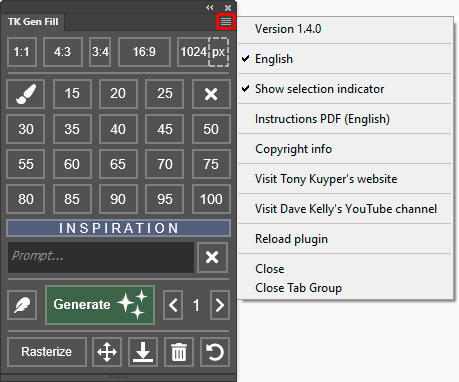 How to get the plugin
NOTE: The TK Gen Fill plugin interacts with Adobe's generative fill feature and this functionality might change as the technology evolves. I will try to update the TK Gen Fill plugin to keep pace with Adobe. Information about updates will be posted on my blog if and when there is a new version of TK Gen Fill. Be sure to subscribe to stay informed.
To get the free TK Gen Fill plugin, follow the directions below.
Indicate that you agree to the End-User License Agreement by clicking this checkbox:
Indicate that you agree to be subscribed to my MailChimp list for email updates by clicking this checkbox:
NOTE: Updates are infrequent, and you can unsubscribe at any time by clicking the "unsubscribe" link in the footer of any email.
Click the ADD TO CART button below to add this item to the shopping cart.
Follow the prompts in the cart to complete the free checkout.