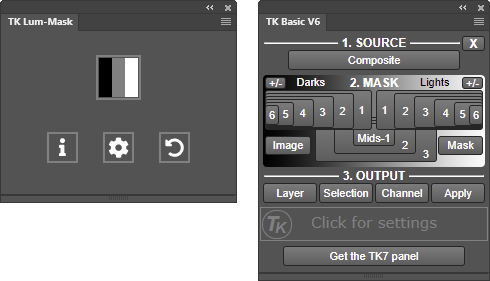 A Photoshop panel provides an easy way for photographers to start using luminosity masks. The TK Lum-Mask and Basic V6 panels can quickly make a variety of Lights, Darks, and Midtones luminosity masks and provide multiple output options for using them. Some of the many useful and unique features of both panels are listed below.
Rapid Mask engine. New masks are calculated and displayed on screen at near real-time speeds.
Mask-based interface. Users see masks up front to make intelligent choices about which one to use.
Intuitive layout. Top-to-bottom workflow for creating and deploying masks.
Click-tracking. A colored outline tracks the last button clicked. Users always know which mask they last generated.
Multiple output options. Curves, Levels, and Hue/Sat adjustment layers are available in output menu. Load-As-Selection, Save-As-Channel, and Apply-As-Layer-Mask buttons provide additional output options.
Compact design. Small footprint so image area is not obscured. The panels can also be conveniently tucked up above any standard Photoshop panel.
Instant help. Moving the mouse over any button provides information on what it does.
Active selection indicator. Provides visual feedback that Photoshop has an active selection even if it's too weak to generate selection borders or if the marching ants have been turned off.
Language switch. The Basic V6 panel offers six language options for the panel's user interface.
Works in multiple versions of Photoshop. The download folder provides access to panels that work starting with Photoshop CS6 and continuing through the current version of Photoshop.
Panels work on multiple platforms. Windows, Mac, and Apple Silicon all support at least one version of the panel.
The TK Lum-Mask and Basic V6 panels are essentially "lite" versions of the TK8 plugin. They have the same core process and speed, and similar layout and features. A basic luminosity mask panel is a great way to learn what luminosity masks can do for an image and to see how easy it is to use them when the panel does all the hard work in the background.
Read more about the TK Basic V6 panel by downloading its Instructions PDF.
The TK Lum-Mask panel is the newest version of the basic luminosity mask panel. Read more about the TK Lum-Mask plugin, watch a video, and download its Instructions PDF here.
The TK Lum-Mask and Basic V6 panels are quite similar. Most users would only need to install one, and at this point in time, the TK Lum-Mask panel would be the best choice for most users. Apple Silicon computers require use of the TK Lum-Mask Panel, but it also works great on Windows and Intel-based Mac computers. Access to all versions of the panels are included in the download folder.
Sean Bagshaw also recorded an excellent video series that explains everything about the Basic V6 panel and how to use it. You can watch three of them below. The full set is included in the download folder.